SCOTTISH HIGHLANDS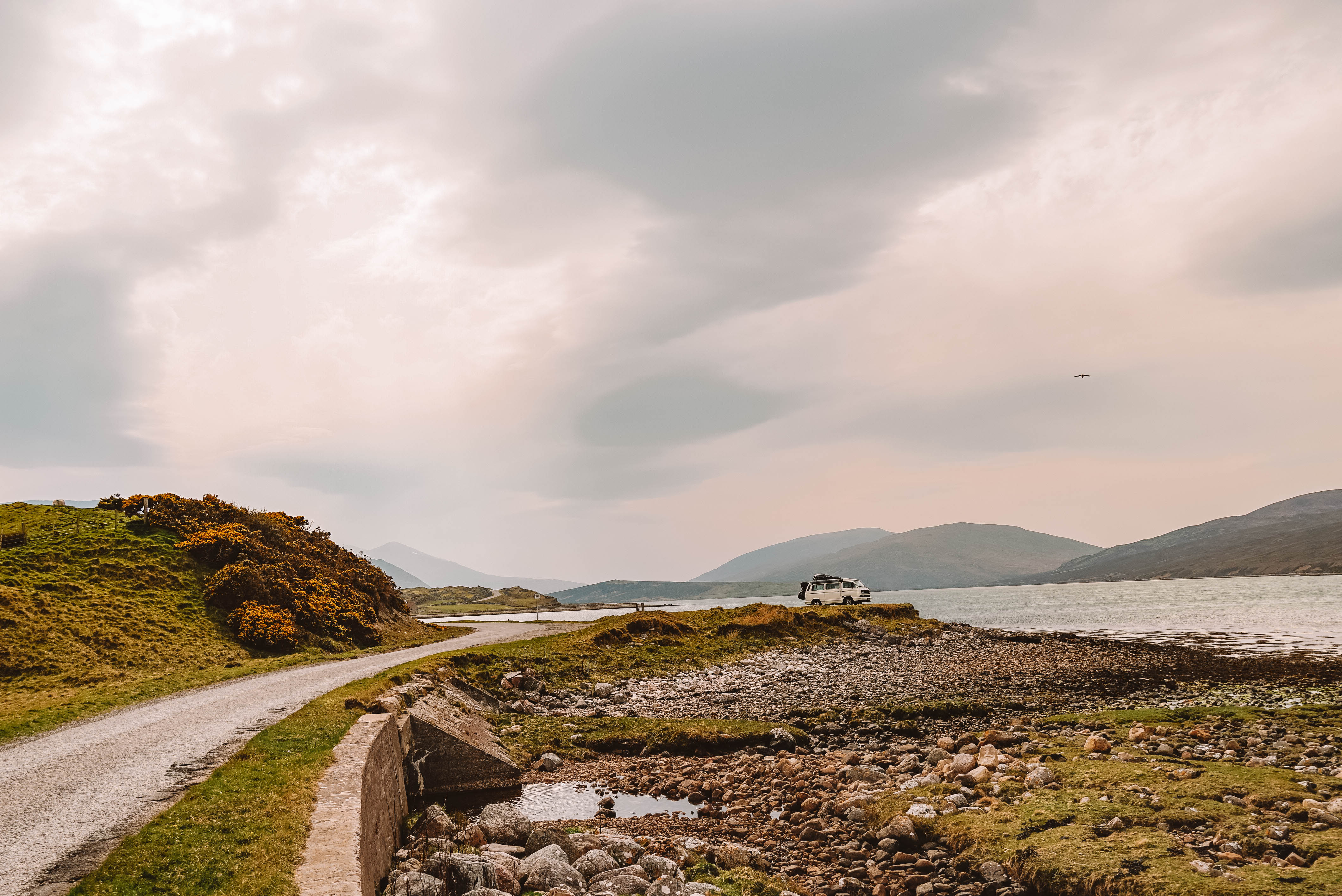 NORTH COAST 500
Finally we reached the North Coast 500, which can be compared to Route 66 and is one of the most legendary roads in the UK. We spent months dreaming about it, wondering what it would be like, what difficulties we would have, why it was so famous, if the landscapes we saw on the pictures would correspond to reality, etc... and suddenly here we are! We were very excited to get started, but before we got on the road we had to get ready: Pingu's water, the tank, check the levels of oil, gas, go to the supermarket, load all the gadgets, withdraw money for any contingency. This is because, from what we have read, this route requires some prior preparation. Also, considering that we could fail to connect to the network and internet, we stopped by a tourist office in Inverness to buy a map. Old school never fails! Now finallly, we were ready to start this adventure...
Day 1
Inverness  is the point where the road begins and also where it ends, but it can be crossed in two ways: westward, clockwise, or northward, counterclockwise. We chose this second option (later we will explain why). Inverness is a large and charming city, next to the Ness River. We then made a small detour because we could not miss the famous Loch Ness. There isn't really much to see beyond the lake and a sign that tells the story of Nessie. Its existence continues to arouse debate among sceptics and believers. Obviously, in the surrounding area there was a lot of buzz around the "monster", from souvenir shops to tours to find it.
We then headed north and the first stop was at Black Isle Brewery, an organic brewery that created an edition dedicated to the legendary road. It has a very beautiful public sale shop and from there we bought the beer we would drink once we completed the route. Since we were on Black Isle, we also visited the village of Rosemarkie, known for having a dolphin spot, Chanonry Point, but only at high tide. We were not lucky, but were satisfied by following the beautiful path through the yellow-filled golf courses.
The first day then ended at Dornoch Beach, an extensive sandy beach. A beautiful and quiet place to dinner and overnight.
Day 2
We continued to Golspie and visited the Dunrobin Castle (entrance 12 eur), built between the 13th and 14th century, as the residence of the dukes of Suntherland. It has an impressive grandeur and beauty. The surroundings of the castle are spectacular, so we took a walk to visit the area.
On this side of the coast, East coast, there is not much to see but whisky distilleries, so we made a big jump to Wick for lunch. We like, whenever possible, to eat in beautiful places, this time we chose Staxigoe Beach. Very calm, clean and with water so clear that it made us want to dive.
Nearby we saw the ruins of a castle marked on the map, so we went there to see. Castle Sinclair Girnigoe, comprises the ruins of two castles: the Castle Girnigoe, from the 15th century; and the Castle Sinclair from the beginning of the 17th century. Well, we could only see little of the castles, but the beach was wonderful. Great location, with impressive views of the sea.
Already with a full belly, we continued to John O´Groats, as we were eager to visit the Northern part of the coast. John O´Groats is a small fishing village at the northern tip of the Scottish Highlands, small and friendly, with some colourful houses facing the fishing port, and a campsite with a wonderful location on the sea. We needed a hot bath and the batteries needed to be charged, so we decided to stay there.
We paid for the two plus Pingu, with electricity, £22. There was no Wi-Fi, but there was a paid network, for £4 a day. As it was Easter and we wanted to talk to the whole family, we decided to do so...and we were thankful for that!
Day 3
We left after lunch towards Duncansby head, the most northeastern part of the Great Britain. We understood that our visit to Scotland actually started there. It was from that point on that everything exceeded the idea we had of this country. From now on, it was the part of the North Coast 500 with the most "wowws".
From the far northeast, we further moved to the north, to Dunnet Head, with a very beautiful lighthouse and a viewpoint overlooking a fantastic slope. Further on, on the way, we found a beautiful sandy beach, called Dunnet Bay Beach.
The next miles we stopped many times. From Bettyhiil, Borgie, Torrisdale Bay to Coldbackie; it was one of the most beautiful roads we drove. The landscapes left us open-mouthed, we stopped 100 times to take pictures, from our mouths we could only hear: "Yes, this is Scotland."
But the highlight of the day was the sunset at Loch Eriboll. We would never forget that landscape of the Scottish Highlands, with the sun going to hide behind the mountains. Very beautiful!
Day 4
To sleep we stopped at Balnakeil Beach in Durness. A windy area, a bad night's sleep, which was sweetened with hot chocolate in the morning in Cocoa Mountain, which is told to have the best hot chocolate on the island. It's really wonderful, approved! More satisfied, we made our way to the Smoo Cave. It is a large sea and fresh water cave in Durness. The giant openings in the stone are worth visiting, they're huge.
Leaving Durness behind, the track to Scourie is very beautiful, through a valley with breathtaking natural beauty. Scourie bay is beautiful, it's worth stopping and enjoying.
And it's a good thing that we stopped, rested and relaxed ourselves, because the next road was ... arduous! Super narrow and bumpy, two cars could not fit, many curves and turns, ups and downs... But beautiful, with lots of vegetation, views over incredible bays, and beaches too, such as Clashnessie and Clachtoll. We took a detour to see Achmelvich Beach. No doubt the most beautiful beaches we have ever set foot on.
Already hungry, and heading to the overnight stop, we were surprised by the beautiful lake, Loch Assyn. The sunset made that sky and that path even more beautiful, and the cherry on top of the cake was the encounter with the deer. We were perplexed to look at them...Beautiful!
Day 5
We slept in Ullapool, despite its small size, it's the largest conurbation of houses for many, many miles and has an important fishing port, known for the excellent quality of its seafood. According to the advice we read on the internet, the best place to try it would be at The Seafood Shack, a street stall with some tables around and a huge line of people waiting to order. Since no table was available, we picked up the food and went to lunch near Pingu. A curious fact about this place is that it doesn't have a permanent menu, it changes every day, depending on what the fishermen bring from the sea. It was the first time during the whole trip that we found a bathroom with a hot water shower, free of charge, and even ... free internet in the whole village. Thanks Ullapool, it was really great!
Shortly after we stopped at Corrieshalloch Gorge, a large gorge, and went to see the famous suspension bridge from where we saw a giant waterfall of almost 50 meters, Falls of Measach. Very beautiful, despite the fear of both the height and the wooden planks on the floor of the suspension bridge.
The next miles we were always surrounded by nature, lakes, incomparable landscapes, but when we read on the signs the indication that it was an area of "red squirrels", our eyes were no longer focused on anything else. Unfortunately, we didn't see any.
We then began to approach Beinn Eighe and its nature reserve. Lying south of the Loch Maree, it forms a long mountain range with many peaks and summits. There are lots of paths and trails to follow to get there, but it wasn't part of our plans. We just admired the landscape of the road that surrounds this imposing mountain range.
The nervous little kid in us started to get noticed, because the most famous part of the North Coast was getting closer. In the meantime, we looked down at the island of Skye, always with Loch Torridon by our side. When we arrived at Shieldaig, we could turn left to Lochcarron following a main road, or right to Applecross following a road with "passing places", that is, a road of reduced width where, from time to time, there is an area for a car to "wait" while another one passes. Since easiness is not made for us, this is where we went.
Applecross is a very beautiful village, on the seashore, and when we passed by, there were many caravans along the way, getting ready to spend the night there. But why? Because the famous and (they say) dangerous section of Bealach na Bà follows right after and the sun was already setting. Bealach na Bà is then a winding road of only one (narrow) lane through the mountains of the Applecross peninsula. We also thought to stay there and do it the next day, more relaxed and with more light, but it took only a few kilometres to finish the route and we were full of energy. Besides, driving on that road at dusk must be magical, right? And it was... it starts with a steep climb and turn, on a road that could barely fit Pingu's wheels. We looked at the top of the mountain and saw a male deer, with a huge frame. Amazing, the sky half pink, and that proud figure at the top, left us in ecstasy. From then on, we just enjoyed that stretch of road so talked about by everyone who has been there. It's really a spectacular, super challenging road, but also a road that will remain forever in our memory. 20% slopes, very tight turns, always with wonderful landscapes. Doing it at dusk really was special because we were completely alone (the crazy ones!) and because on top of us we had a sky with colors that made those kilometers even more exciting. Bealach na Bà is not dangerous as so many describe it, but it is challenging and full of adventurs for those who like to keep memories... and we will keep this one forever!
That's how we finished the North Coast 500, looking at this incredible road through the rearview mirror and with a smile on our lips. We were happy because we reached another milestone that we proposed. We then stopped at the next village to rest. It was a very emotional day and we felt exhausted. No, we didn't forget the beer! We didn't think about anything else anymore... and the toast came with the "North Coast 500" beer, just as we had promised to do!
As mentioned above, this route starts and ends in Inverness and can be done clockwise or counterclockwise. Now we can explain to you why we chose to do it in the opposite direction- we wanted to leave Bealach in Bà for the end, we wanted to finish in a great way. Another reason was because we wanted to visit the island of Skye and this way it was easier to reach.
As you may have noticed, making the North Coast 500 is not about getting to know every village, every point of interest, every whisky distillery (of the 1000 there are), or stopping at every museum and every castle. Driving on this road means to enjoy the landscapes, the driving, open the windows and feel that you are in the middle of the most virgin nature you have ever seen.
An honest advice for who plans to visit Scotland: you don't need to do the 500 miles, but if you want to know the true essence of Scotland, do the stretch from Duncansby head to Bealach na Bà. After that, nothing else in Scotland will surprise you.
We leave some important recommendations for our adventurers:
- Choose what you want to see, your points of interest, there are 500 things, which may take several days.
- Be careful, not all streets are in good condition and driving on the left requires even better driving skills.
- It's super quiet and safe to park anywhere to sleep (wild camping), but there are also lots of camping sites, all with incredible views over the sea.
- Bring clothes for all seasons of the year, it may be sunny and suddenly start to rain. The weather changes very fast.
- It is becoming a very touristy route as you may notice by the prices. Buy enough before, both food and petrol.
- Although there is a gas station in each village, never let the tank get emptier than half, there are times when the distance between villages is really long and you may cross huge areas with no home at all.
- Take money with you for any case. Withdrawing money there, in some cases, costs an additional fee.
- Most of the route has no network and there are not many places (cafes, restaurants, etc.) with wi-fi.
- When you see the famous highland cows, don't miss the opportunity, stop and take a picture. According to the ads, it seems that there are lots of them everywhere, but they are really few!