AMALFI COAST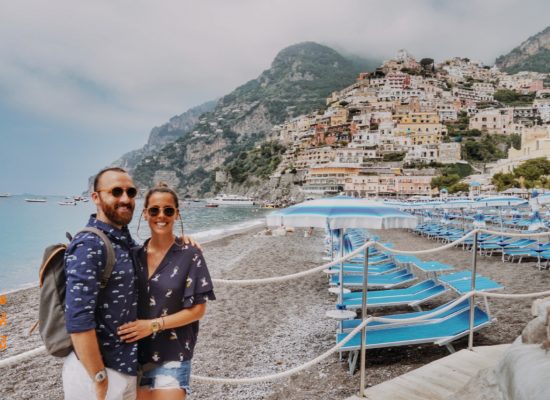 SO MUCH TO SEE FROM THE BEAUTIFUL TUSCANY TO THE AMALFI COAST
#ROADTRIP #VANLIFE
We do not have our trip completely defined, we know some points that we want to visit, but in general everything is open and we decide day by day.
We were in Bologna and we knew that the next destination we had marked was the Amalfi Coast, but until then we had a lot of road to walk and so we could and should stop at some points.
We received a message from a follower telling us not to lose Val D'orcia, the Terme di Saturnia were also on the way, we looked at the map and Vesuvio and Pompeii volcano too.
Okay, we had found a cool route to the coast.
Val D'orcia is a valley crossed by Orcia River. It is a region of Tuscany, south of Siena, characterized by cultivated hills, picturesque towns and villages that arise from time to time. Making that road was beautiful, we were constantly stopping to enjoy the view.
Medieval villages with high towers, huge cypresses, vineyards, lots of vegetation, rural houses, but above all a wonderful peace and quiet.
Each landscape looked like an illustrated postcard to us.
We visited the picturesque and beautiful Capella della Madonna di Vitaleta, in San Quirico d'Orcia, which seems lost in the middle of the wheat fields.
It is well known in this area and lives up to its fame because it is really beautiful and its surroundings too.
Terme di Saturnia, we put it on the GPS and he sent us on a horrible path through the middle of the hill.
Holes and more holes, nothing we are not used to here in Italy.
Yes, because the access here is horrible, taking into account that we always walk on national roads.
 It's been a real adventure to drive here... but forward.
According to the GPS we had reached our destination, but we were in a parking lot with a building all exposed saying "Termas" (private) and it didn't look like that.
So we went to Mr. Google and found out that the baths we were looking for are called "Cascate del Mulino".
They're 1 min away, they're public, you don't pay anything and there's a parking lot, but ...with a barrier, which means Pingu didn't pass.
We drove around a few times, but we couldn't find a place to park, not because it was full of people, but because there is no parking.
About two miles ahead we found a campsite and decided we'd stay there. 
The weather was very uncertain, rain forecast so we preferred to stay in Pingu to rest and the next day very early to go to the baths.
And so it was, 7am we were on our bikes ready for a hot bath.
Along the way we felt the slight smell of sulphur.
When we got there it was very quiet, very few people, we could lift the drone and realize the size of it.
It's really a beautiful place, super natural, with turquoise water at 37 degrees, regardless of the time of year.
It's an open-air spa, with stone baths formed thousands of years ago by the deposition of limestone.
An inconvenience of this place, there are no trains there, only buses. And from what we're investigating, you have to take two buses.
The first of them is the 41P that leaves Grosseto and passes in Albinia towards Manciano. It costs 4,50 EUR per person. Then in Manciano you have to take another bus, 17P, to Saturnia which costs 2,60 EUR.




We went out to the coast thinking it would be a wonderful walk and... it turned out to be a little nightmare.
We knew from what we read and from what they told us that the Naples area was dangerous to stay overnight, and even to visit with Pingu.
The people we spoke to advised us against it. But believe me, it's not just the Naples area, the whole coast that we travelled to Rome and then from Rome to Naples is ugly.
Let's be honest with you, after what we saw, the charm of Italy fell a bit to the ground. Everything very dirty, garbage on the ground from months and months ago, plastic bag towers left to fend for themselves, a lot of prostitution, horrible roads full of holes, infernal and confusing traffic, no one respects rules or signs, overly disordered cities, slums everywhere, very ugly and dirty buildings, in short...a disappointment. We can say that here we feel insecurity, yes! We always walked in Pingu with our doors closed and we didn't consider sleeping anywhere but on a camping site.
When we arrived in Pompeii, we went to look for the campsite we had seen in Park4night: Fortuna Village Pompei. The campsite was not only of campsite, but also of parking, even in the center of Pompeii, in front of the ruins. We started then to plan our visit to the volcano and the city. As a rule we followed the indications given in the parks where we stayed or if we stayed in wild spot we looked for the tourist office. We were advised not to climb the Vesuvio Volcano too early because the fog might not rise and the views would be compromised. We decided to leave the park in the middle of the morning, around 11am, and take the EAV public bus, near the train station (the ticket is bought on the bus itself). Each trip on this bus costs 3,10 EUR per person. However, there will be a lot of people from private companies there wanting to sell you trips at 10,- EUR.
In our opinion it is not worth it, neither for the quality of the buses, because it is exactly the same. The trip to the volcano lasts approximately 30 minutes.
The bus leaves us in a parking zone and the rest has to be done on foot. As soon as we arrived a lady got on the bus to sell us the tickets for the ascent of the volcano, 10,- EUR per person. Some people buy the ticket online, but when they get there they have to exchange that voucher for the ticket, and to do so they have to go down 300 meters. In other words, it's not worth it, the value is the same and they save their legs, because they will need them.
So we were ready to start climbing the volcano. It's a 30 to 40 minute walk, always going up, with land on dirt, with a lot of loose rocks, which tires a bit more, but slowly you do it well. There are lots of children and elderly people doing this walk, so... On arrival at the crater there is a meeting point where a person is informing that there are guides of different languages along the way.
We then join a guide who speaks English and learn a few things.
The Vesuvius Volcano is the only volcano in continental Europe to have come into activity in the last 100 years and at any time it can come back in.
Its eruption in 79 was one of the best known and most catastrophic volcanic eruptions of all time. It spread a deadly cloud of rock, ash and smoke at a height of over 30 kilometres, spitting out lava at a rate of 1.5 million tonnes per second and releasing in total thermal energy hundreds of thousands of times that of the Hiroshima bombing. It is estimated that 16,000 citizens of Pompeii and Herculaneus died due to pyroclasts with temperatures above 700º C.
Since 1860, when systematic excavations began in Pompeii, archaeologists have discovered the petrified shells of the decomposed bodies of 1044 victims.
And after we knew all this, there we were by the crater of the Vesuvius Volcano. It's a mixture of sensations. From dazzle to cold in the belly... of insecurity. Obviously it has a whole security system, which if the volcano remembers going into activity, it will know in advance. But being so close to one of those sleeping bugs imposes respect... because in some areas you can still see smoke coming out of the crater! The view of the city of Naples all the way up, as well as from up there, is brutal. We strongly recommend this experience, after all it is not every day that we have the opportunity to climb a volcano.