CINQUE TERRE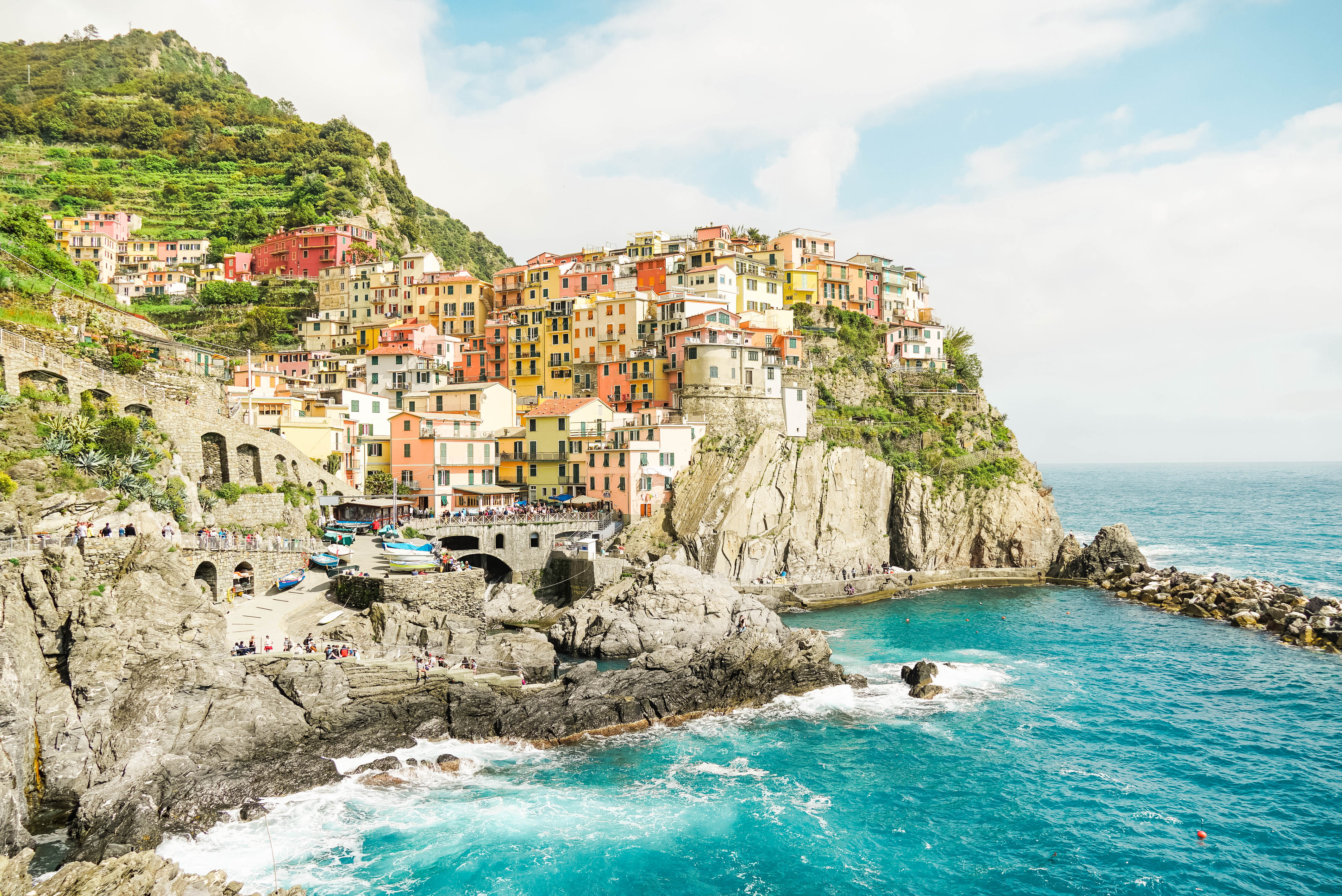 CIAO ITALIA
This trip was made in four.
We went to pick up some friends at Milan airport and they stayed with us for a week to discover this beautiful country that is Italy.
We had no luck with the weather, it was a rainy week.
One and a half times the weather there gave us a break and we were able to visit a city.
We went straight to the coast, passed Genoa and the first stop was Camogli. What a nice surprise this was.
A typical Italian city, with tall and colorful houses, but always in the same tones, between yellow, pink and orange.
Next to the beach a promenade with restaurants and esplanades looking very good. We ended up choosing one of them for lunch, right on top of the port.
We had lunch at the best focaccia de pesto, which made us go out in search of a market to buy more pesto to have a meal in Pingu.
Here we visited the Basilica of Santa Maria Assunta, high and imposing, which is between the beach and the port.
Generally speaking, quite honestly, we are not dazzled by Cinque Terra.
We went in May and it was completely overflowing with people, a lot of confusion, streets with a lot of garbage on the ground, some of the villages quite degraded (ok, they were still rising from the flood).
But by the "publicity" they do, we thought we were going to see something incredible and it didn't happen.
The best one for us, as we said, was Manarola, the rest of them didn't surprise us. We certainly preferred Camogli and Portofino. Much more beautiful, calm and well looked after.

Every day we woke up hoping to go for a swim, but the weather was still not very good, so we could not include beach in our itinerary.
We continued on the cultural plan.
We then moved on to Tuscany.
Pisa, we started with a hike through the city, until we went to the famous Piazza dei Miracoli (Square of Miracles) where the most famous monuments are gathered: the Pendente Tower, the Duomo, the Battistero and the Camposanto (cemetery).
The Torre de Pisa was built between the 12th and 14th centuries and it was sloping because the land gave way, as it was built on clay and sand, materials not very firm to support a building of that size.
It was designed to house the bell of the cathedral of Pisa, and right at the end of the first three floors there was a slope due to the sinking of the land.
Piazza dei Miracoli is huge, with beautiful gardens, and this is where you can see the guys doing the well-known scenes to get an original photo...or not!
We had a completely wrong idea of Pisa, we thought it would be a small and calm town, but actually it is quite busy and with a lot to see beyond the tower.
Several people had already told us about San Gimignano, which we had to visit, which is very beautiful, a small medieval town.
We took advantage of the fact that we were nearby and took a jump there.
San Gimignano is a town on a hill in Tuscany, surrounded by walls.
The old town is centered in Piazza della Cisterna, a triangular square with medieval houses.
We stop for lunch at a focaccia by the thick stone tower, and sit on the steps of the Duomo di San Gimignano watching the frenzy of that small town.
Lots of people, lots of tourism, but it is confirmed, a very beautiful city!
It was worth the visit!
This was not our first time in Florence, so it was a less exhaustive visit and more in the form of a walk.
As we have been saying, it is very complicated to park Pingu in big cities, so we had to look for a campsite.
Here the offer is quite small and the best option was Firenze Camping in town, a luxury campsite, where we paid 63,- EUR for four people and Pingu.
It's really different from what we're used to, very chic toilet and bathing area, swimming pool, supermarket, motorbike and bicycle rental area, all very nice and very well looked after.
We advise!
From there a bus would leave to the centre every half hour for 3,- EUR, and it would take about 15 min.
We enjoyed the ride and went for a walk to Florence.
This is undoubtedly one of our favourite European cities, so whenever we have a chance, we will come back.
It was nice to walk by the Arno River again, to cross the beautiful Ponte Vecchio, to wander through those so Italian streets.
We couldn't help but shiver when we got to Piazza del Duomo.
The magnificence of that Cathedral of Santa Maria del Fiore, the Campanile di Giotto and the Battistero di San Giovanni, are different from anything we have ever seen.
The patterns of its facades are brutal, as is the entire construction of these monuments.
We continued along the streets loaded with delicious ice-cream parlours and arrived at what is considered the main square of Florence: Piazza della Signoria. Here we can see great artistic works such as the replica of Michelangelo's famous David (the original is in the Museu dell'Accademia), the Fontana de Nettuno and the Palazzo Vecchio.
In this square, at night, there are wonderful serenades of amateur musicians and people gather there silently listening.
Beautiful!
Piazzale Michelangelo is also a mandatory stop.
From there we got the best view of Florence.
There is a bus in the city that goes straight there.
However last time we chose to rent a Vespa and do the route that is wonderful,
But this time we went with Pingu!
Going to Florence and not having dinner at our favorite restaurant would be a serious failure.
Trattoria Nerone, a very well frequented place, beautiful decoration, delicious food, excellent service, always at half light with a super cozy atmosphere, and the super inviting price.
We have already tried some other solutions in Florence, but none has yet managed to get Nerone out of #1.
It was not in our plans to go to Bologna, but the bad weather that has been with us for some weeks now has caused us to change our plans day by day, so we have time to take a walk in Bologna.
Both we and our friends would go to the airport the next day, them to return to Portugal, us to travel to Switzerland, so we decided to get to know one more city.

Bologna is known as La grassa (the fat one), La dotta (the cult) and La rossa (the red one).
The city is known as la grassa, or the fat one, because it is said to be one of the most important culinary points in Italy.
La dotta, or the culta, as Bologna is the main seat of the world's oldest university still in operation. We walked along the famous Via Zamboni and saw university life in what is one of the most important streets in the city.
La rossa (the red one), is so called due to the reddish tone of its buildings.

As we did not have this visit prepared, we walked towards the centre, along Via dell'Indipendenza, one of the most beautiful streets of the city and where the main shops are, and we arrived at Piazza Maggiore (the central square) where we came across the Basilica of San Petronio, which is the most visited church and one of the postcards of Bologna.
Continuing our tour we find the Due Torre (two towers), also one of the main Bologna postcards.
The towers are called Asinelli and Garisenda.
Asinelli is the tallest tower, 97.2 meters high and it is possible to climb its 498 steps (3,- EUR) and enjoy the breathtaking view of Bologna.
Garisenda is the lowest, with 47 meters.
Both are very inclined, due to the ground where they were built and their foundations, have cracked.
During all our tour we come across a huge amount of porticos (kind of galleries), which extend for more than 40 km.
The city was walled, and could not grow to the sides.
So in order to make the houses bigger without having to climb many stairs, people started to build on top of the roads, increasing their second floors, but still leaving room to walk on the street.
These porticos are a mark of the city!
As we have already mentioned, these days were more cultural, with visits to big cities, because we had a couple friends with us who did not know Italy and also because the weather did not allow us to enjoy the coast and the beach.
We hope that in the next few days the weather will improve so that we can show you more of the Italian coast.

If all goes well, Amalfi Coast awaits us ...

Be happy,

Mochileiros