JUST RIDE!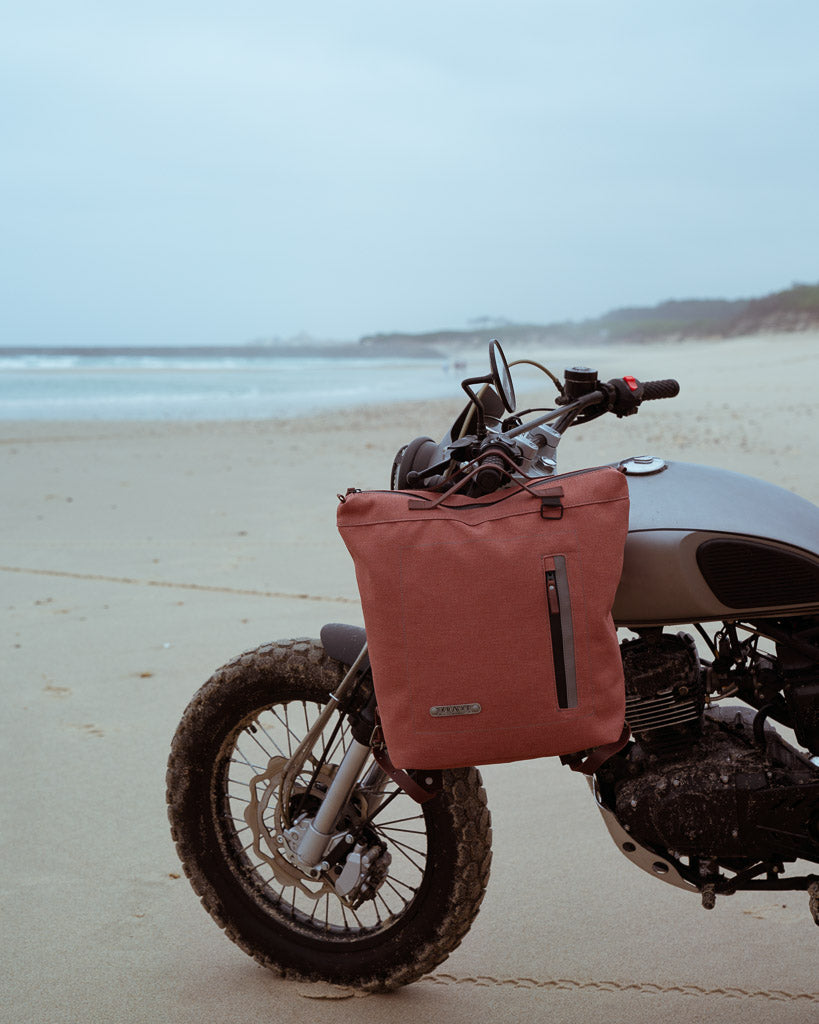 JUST RIDE!
#KRAXEWHEREVERYOUGO
This post is for you, who is daily challenged by traffic, and the true efficiency of your city's public transportation.
My name is Ângelo Mattei, lover of two-wheeled vehicles, and I was invited by my friends from Kraxe-Wien to share with you my experiences on the subject!
I was born and lived in the city of São Paulo, Brazil until I was 21 years old, and since I was a child the traffic in the city already had an impact on my daily life.
In São Paulo to cover a distance of 25km, it can become a 2hrs trip.
Even with the great flow of cars on the city roads, public transportation at peak hours also suffers from traffic jams.
When I moved to the city of Müsnter, Germany at 22 years of age to study mathematics, I came across, what I say, the paradise of bicycles.
Münster is also known as the City of Bicycles, and is seen by other German and international cities as an example, to plan the bike paths and encourage their citizens to use the bike. This reduces the number of cars on the streets, reduces traffic, and consequently the rate of CO2 and stress.
It was in Münster that I created the habit of riding a bicycle. Wherever I went, summer or winter, I went by bike. At first it was a little strange because I was used to taking my stuff thrown in the car. But I bought a good backpack , waterproof to protect my stuff , and there I went with my Maggrela - name I gave to the bike!
Then I moved to Vienna to take my Master's degree. Vienna is a big city, much bigger than Münster. In the process of moving I thought that I would not have the same mobility with Maggrela as I had in Müster, and that I would have to adapt my life to the schedules of public transport or even to have a car again. After all the distances are bigger.
But that nothing in Vienna comes faster by bike than public transport , not to mention car (because until I found a place to park , I had already gone and returned by bike about 3 times!).
Today I live in Porto , Portugal , where unfortunately I was not as lucky as Münster and Vienna .
Here the bike paths are not yet favored.
But here I discovered Mountainbike and the pleasure of riding a bike.
Although the Portuguese prefer cars for everyday life, they practice Mountainbike a lot.
Riding a bike here is a sport. I've made friends who practice Mountainbike and we have a very nice group, which we meet to make very interesting trips, like The Ways of St. James, or simply take a day to climb the mountains of Gerês
And as I mentioned above, I also discovered here in Portugal the pleasure of riding a motorcycle. Here the climate is much milder than that of central Europe in winter, riding motorcycles on the highways is not seasonal.
Here I leave a small part of my experiences and discoveries in the world on two wheels.
Regarding my friends at Kraxe-Wien, I need to mention the creative and inspiring backpacks developed by them, to give more comfort, quality, durability and style, to us cyclists.
Cycle & Shopper Backpack Canvas or Cordura is one of my favorite models.
It accompanies me in my mountain biking adventures, when I'm at work, or in the city moments of everyday life or even in leisure.
 It has plenty of space to carry my work or leisure objects.
And for us cyclists, on the front there is a reflective strip, and both the canvas and the cordura are 100% waterproof.
To you reader, thank you for your interest in my story and if you have any questions or curiosity about any of the points mentioned above, feel free to use the comments space below.
Thanks! Ride and be Happy! 
Ângelo