THE BEGINNING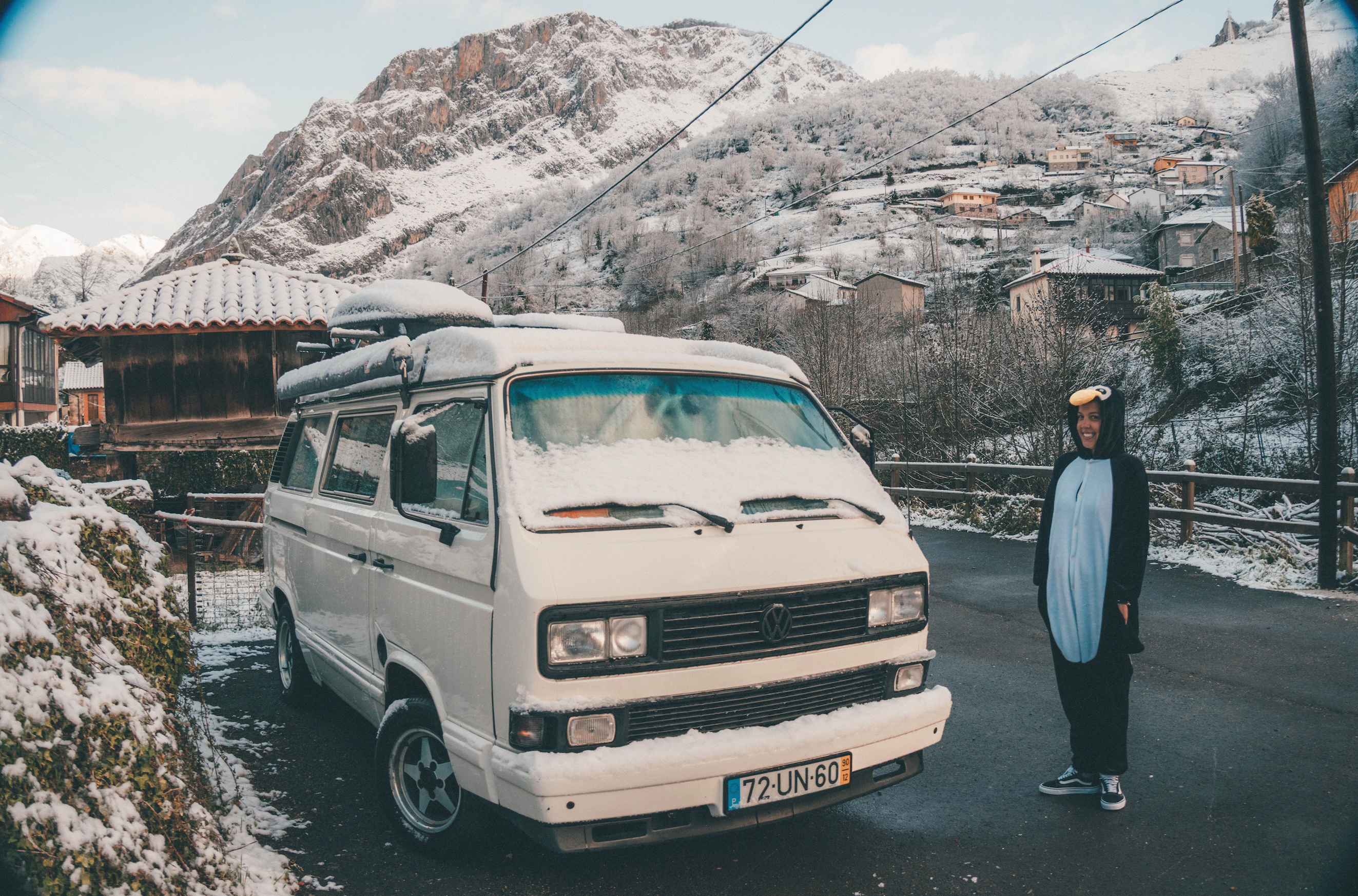 Las Médulas, this was the first stop of our Roadtrip. Just like most of the places we added on our wish list, also this one was found in a post of a Portuguese travel blogger. We didn't know about the existence of this place, but the pictures left us super curious. 
Leaving Porto, it lies 300 km (190 miles) North following the highway. However, since we chose to follow the national roads, it took us a little longer, 360 km and a good 4 hours.

The place lies in León province, Spain and was an ancient Roman open-air gold mine, today a World Heritage site. They call it Europe's Grand Canyon, with reddish rock formations blending in with the green chestnut and oak tree forests.
To get there, we typed "Las Médulas" into our GPS and we got to a town with this name. We parked the van, took out our bikes out and started our adventure. WRONG! We should have looked better at our google maps, because from there we could have taken several paths leading through the park. If you like history and long walks come here to Las Médulas and search for the "Aula Arqueológica" (Spanish for: Archeology Lesson). Here you can find all the information about the gold extraction processes and about the trails. We actually only wanted to have a view over the park with all those rocks, a more "chilled" visit, and that is why we chose the wrong path. We rode our bikes on a very steep path and most of it we just pushed them. We sweated a lot to reach the Mirador de Orellán viewpoint.
As we got there, we almost went crazy; actually, there was a driveway up there. We should have turned before the town of "Las Médulas". That's why, if you are planning to visit this place, you should search from the beginning Mirador de Orellán in your GPS. From here, you have an incredible view of the whole park and for 3 Euro, you can also explore the caves. And the way back down? Easy like butter…we didn't even have to pedal…after the struggle to get there, we deserved it!
Overnight stay – Park4night – Gijon
Picos de Europa
(Spanish for: Peaks of Europe), we were extremely curious about those peaks. We made a plan with all the places we wanted to visit; we planned 4 days for the main points, since the Picos de Europa National Park is very big, extending to Asturia, Cantabria and Castile-Leon. We were already imagining our drone flying over those lakes, but…not everything went as planned! 
We started our excursion through the peaks at the famous village of Cangas de Onís, a small town but with all comforts and services, whose main attraction is the Roman bridge with the famous Victory Cross, symbol of Asturias. The river that runs there is the beautiful Río Sella.
We continued to drive up towards Covadonga, where you can visit a Basilica with an astonishing environment. Nearby there is a cave where the Virgin of Covadonga, "La Santina", patron saint of Asturias, is found in a small chapel "excavated" into the mountain.
Until now, everything was going well, but as we drove up towards the Enol and Ercina Lakes, things got complicated. It began to snow and the happiness was instantaneous, but panic quickly set in. The amount of snow was already considerable, the whole road was white, the mountains, the gorges…and our Pingu started to slip. Can you imagine how we felt? We stopped in a wider area to decide what we were going to do, if we followed the road carefully or if we would drive back down. When we looked back, we could no longer see a road, but a blanket of snow. We called the support services of the Natural Park, but they told us that the snowploughs would only serve the villages and advised us to drive down carefully, always on first gear. Oh dear, these were the longest 7km of our lives.
As good adventurers, we didn't want to give up on the Picos and we decided to choose a calmer path, following road N-625 through Los Beyos Gorge, always by the Río Sella, for 14km. A road that will never be forgotten, undoubtedly one of the most beautiful ones that we have traveled, surrounded by mountains full of snow. We passed by charming villages, waterfalls, magnificent views, which will certainly make us return there.
The next destinations would then be: Caín, Potes, Fuente Dé, Sotres, Poncebos and Bulnes, but once again we were caught by snow and had to spend the night in a mountain village. And we woke up to this...
After that, we thought it would be best to give our hearts a rest and leave for the coast. No, we had not given up on the Peaks of Europe, we would come back!
Arriving on the Asturian coast, the first stop was the famous Castro de Las Gaviotas, in Llanes, a peculiar islet shaped like an arch that defies the law of gravity and resists the force of the sea.
Soon after, we reached the famous Gulpiyuri Beach, known as the smallest in the world. It is a small sea beach located in the middle of green fields. The seawater comes to this beach through underground connections, meaning that we were on the beach without seeing the immensity of the sea but just a "bay" of water.
Following the coast, we got to Cobijeru Beach, similar to the previous one, a beach separated from the sea. Because of this funny characteristic, we were able to stand in front of the beach, with the sea behind our backs. Strange, isn't it?
       Gulpiyuri Beach                            Cobijeru Beach
We hiked to these three beaches on a beaten earth track along the coast, between fields, cows, horses...a very beautiful walk!
We then entered Cantabria, and visited Ubiarco with the well-known Tower of San Telmo and the Chapel of Santa Justa. We left our Pingu a little further away and walked along the path, through mountains and cattle fields, and with a breathtaking view over the sea!

Our overnight stay would then be in Liencres, but we had to climb Monte La Picota mountain to enjoy its incredible views.
Liencres is a very beautiful city, with forests and dunes. This was the place we chose to spend the night (Park4night). In the morning, we took the bicycles and went for a walk through the dense forest that led us to the sea. It really looked like a movie scene, huge trees on both sides while we were riding our bikes in the middle, on an endless road... The best of all? On the way back we were surprised by a follower who came to offer us a "treat", some delicious potato chips typical of the area. Last but not least, we also played some guitar with the neighbors of the van next door.
This is how the first week of our adventure, which has only just begun, went by. When you decide to leave your comfort zone and follow your dreams, you risk experiencing incredible moments like these!